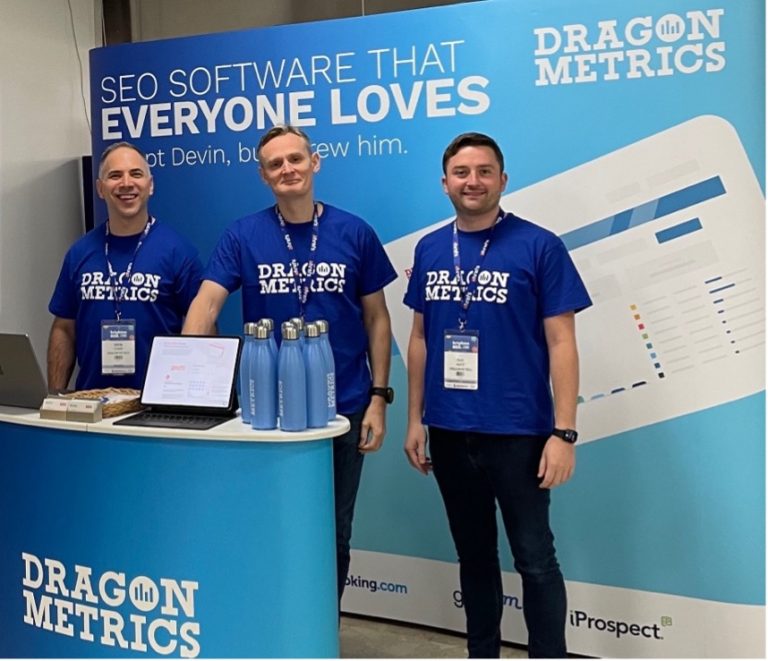 Let's be honest, reporting isn't fun. It's far worse than just not fun — it's the bane of most SEOs' existence. With SEOs spending on average 25% of their time on reporting alone, Dragon Metrics built a solution that solves the most common pain points felt in SEO reporting. So, let's take a look at who we are and what we've been doing to help the SEO industry advance.
Who is Dragon Metrics?
Dragon Metrics is an all-in-one SEO platform that provides a holistic approach to SEO. Rather than giving our users access to what feels like a single login for separate tools, our platform blends multiple data sources, giving you a truly seamless experience. Famous for our report and rank tracking capabilities, our platform enables you to access data about your organic performance that you can't even get in the likes of Google Search Console.
What reporting solutions are out there?
Having started life as an internal agency tool, we know just how tedious monthly reporting can be. To make sure it wasn't just us, we've spent countless hours over the last decade asking SEOs how they handle their reporting and what solutions they wish they had instead.
Our findings have shown that SEOs spend a whopping 25% of their time on reporting alone. And that right now, they're stuck:
Making their own reports in Google Looker Studio which breaks a lot and takes an awful long time to put together. Not to mention it's very complicated!
Manually screenshotting SEO tools and creating their own reports in Word. This is incredibly manual and time-consuming.
Using white-labeled SEO tools that come as part of their SEO stack. However, these reports are too basic to address their reporting needs and aren't customizable, either.
Importing CSV data into Excel and creating their own graphs. Again, this is very time-consuming and leaves the reports prone to errors. Not to mention they don't look the best, either.
Building their own API solutions which are expensive and require regular maintenance.
This got us thinking – surely SEOs have more important things to do with their time? Like actual SEO? And that's how Report Builder 2.0 was born.
So, what does Report Builder 2.0 do?
What we've done is take the best bits of the reporting solutions listed above and turn them into the most powerful reporting tool in the industry. With Report Builder 2.0, you can create incredibly detailed, customizable reports that are simple to create and can be fully automated.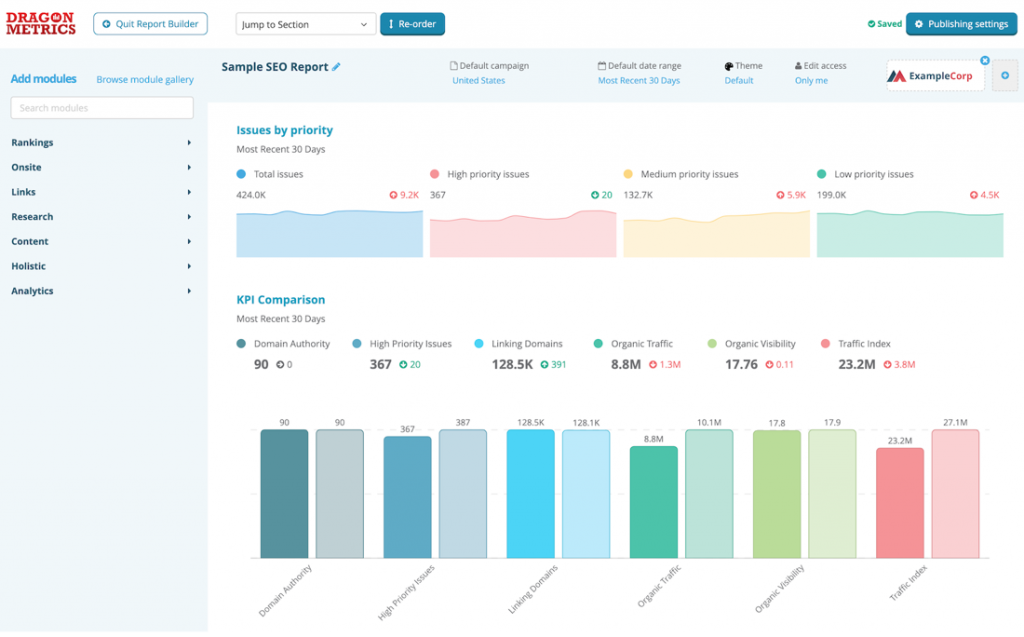 Report Builder 2.0 has revolutionized the way both in-house and agency SEOs handle their reporting process. It does this through:
Incredibly detailed reports covering every single aspect of your SEO performance, including in-depth ranking reports, all you need to know about your competitors, link-building tools, detailed research modules, content insights, over 40 GA and GSC modules, and site health & audits including Core Web Vitals, indexation and Lighthouse.
Being able to add your own comments and analysis to each module, removing the need for explanation emails or PowerPoint presentations.
Fully white-labeled and automated reports so seamless that we don't mind if you tell your boss or your clients you built the whole thing (they'll never know!).
Scaling your reports from 1 website to 100 in a matter of seconds thanks to Report Builder 2.0's ability to use customized modules and reports as a template.
Thanks to its responsive design, gone are the days of pinching and zooming in when you want to look at reports on a mobile device.
Pulling in data from all aspects of your SEO performance as well as Google Analytics and Google Search Console. But if you need to combine this data with data from any other source, you can upload any CSV files and visualize it in the report or embed an entire Google Looker Studio report inside Report Builder 2.0.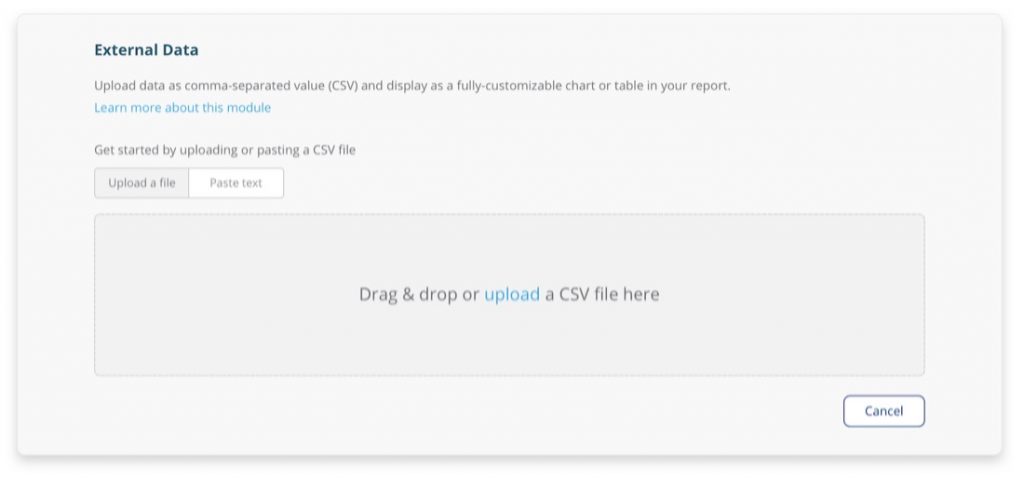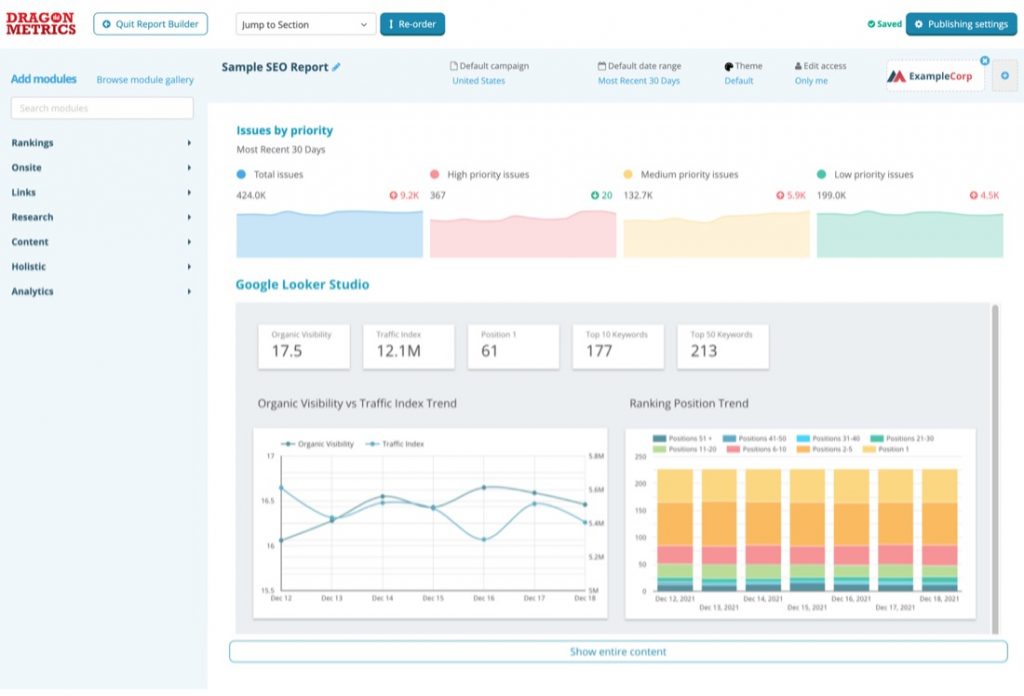 How can Report Builder 2.0 help you?
Report Builder gives you back your time so you can focus on the job at hand — SEO. This will allow you to increase your stakeholder's satisfaction with SEO, scale your operations, you name it — the world is your oyster.
Why did we enter the US Search Awards?
We've said it before and we'll say it again – Report Builder 2.0 is the best reporting tool on the market and deserves to be recognized as such. Plus, it has the power to change the industry, so reaching the final of the US Search Awards and getting the thumbs up from the expert judges helps take us one step further towards the change the industry needs when it comes to reporting.
Connect with Us
If you'd like to learn more, you can read about why Report Builder 2.0 is the best SEO reporting tool on the market or book your very own guided tour. You can also follow us on LinkedIn or Twitter to keep up to date with our latest innovations.